How to hide online status, second blue tick and blue tick on whatsapp will help you improve your privacy on the app. Especially when you are busy or do not feel like responding or chatting. learn how to hide online status, your last seen, profile picture and hide read receipt.
Whatsapp messenger is no doubt one of the most popular instant messaging apps. The Whatsapp messenger is an app that allows users to exchange instant messages and calls without having to pay for SMS or phone calls bills. Whatsapp instant messaging is available for Blackberry, Android, Windows phone and Nokia phones and this phones can instant message each other.
But a lot of people are really looking for a way to hide their online status, hide the message delivery status so that people will not know when they are either online or offline and even hide the message delivery which shows a double blue mark so that people won't know when they receive the message and when the message has been read by them.
Well a lot of reasons can be associated to the fact they maybe busy or doing something useful and need to concentrate and have no time to reply contacts. Another reason that leads to this is some people want some privacy for themselves.
How to hide online status, profile picture, second blue tick on whatsapp
And some people use whatsapp to check if you are online or not in the case of being waiting for a response to a previous message sent and some use last seen to know when was the last time you logged online. And some use it to whatsapp last seen to stalk you to monitor if you are online and some use to check why you ve not responded to the last message sent and maybe you are busy to reply.
By default whatsapp will set your privacy settings to allow any whatsapp users to be able to see your last seen online, your last profile photo will be available to all contacts and last updated status and even your message read receipt to let your friends to see.
If you really want to increase your privacy when using the whatsapp chat app you will definitely on the right page, and all you have to do is to follow the simple instructions which will help you actualize that. But please note there is no way to hide your online status when you are online but when offline it is possible to hide your last seen.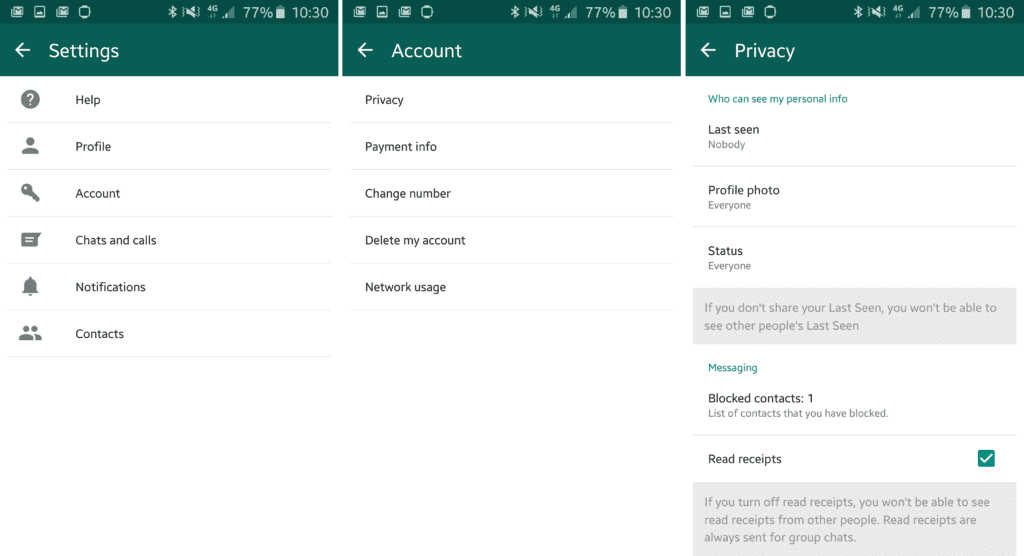 Hide Last seen/ Offline Status on Whatsapp
Online and Last seen status will tell if your contacts are online or the last time they were seen online last. And online status means the app is open in the foreground or launched and it is connected to internet, although this not necessary means the message has been read.
Features of hiding Last seen
Contacts won't be able to see your last seen.
You won't able to see other contact last seen.
Simply Launch the Whatsapp application.
Go to Settings
Chat Settings then click on Privacy
Privacy then click on LAST SEEN and then select Nobody .
HIDE PROFILE PICTURE
Go to settings
Settings > Privacy > Click on profile photo
Select the one that option that best convey your need. ( Everyone, My Contacts, Nobody).
READ RECEIPTS
Go to Settings
SETTINGS >>>PRIVACY
PRIVACY >>>>YOU WILL SELECT READ RECEIPTS ( If you turn off read receipts you won't be able to see read receipts from other people. Read receipts are always sent for group chats).
How to hide online status, second blue tick and blue tick on whatsapp tips and trick.