Do a fast program launch with Rainmeter Honeycomb, this requires a beautiful arrangement of Launcher icons that can be placed in any style or format you desire. The Honeycomb launcher is very popular, it has been downloaded over 500,000 times with over 50 daily downloads.
The launcher icons for Honeycomb are regularly updated and new icons added. The list of available icons can be found below.
 chrome
    evernote
    csgo
    notepad
    photoshop
    premiere
    plex
    reddit
    speedfan
    steam
    teamspeak
    imgur
    music
    popcorntime
    utorrent
    settings
Gimp
Foobar2000
Hamachi
Hearthstone
League Of Legends
Minecraft (2 versions)
Runescape
Smite
Spore
Starcraft
Synctoy
TI Connect
Transmission
Twitch
Ventrillo
Visual Studio
Vuze
Deluge
Calibre
Borderlands
League of Legends
Word
Powerpoint
Outlook
Dota 2
Excel
Adobe Auditon
Bitdefender
CivV
Curse Voice
Dropbox
Excel
Firefox
Folder
GEForce Experience
Generic Gamepad Icon
Google Drive
Greenshot
Guild Wars
Guitar Rig
Hexchat
Intelli J
Liberkey
Mumble
Outlook
Pandora
Portable Apps
Rainmeter
Robocraft
Rossetto Stone
SyncToy
Tor
xbmc
YouTube
Battle.net
Gameboy Emulator
osu!
avg
crunchyroll
generic mouse icon
4Chan
Bittorrent
VLC
Mirrors Edge
To use the icons link it to the programs to make it work effortlessly.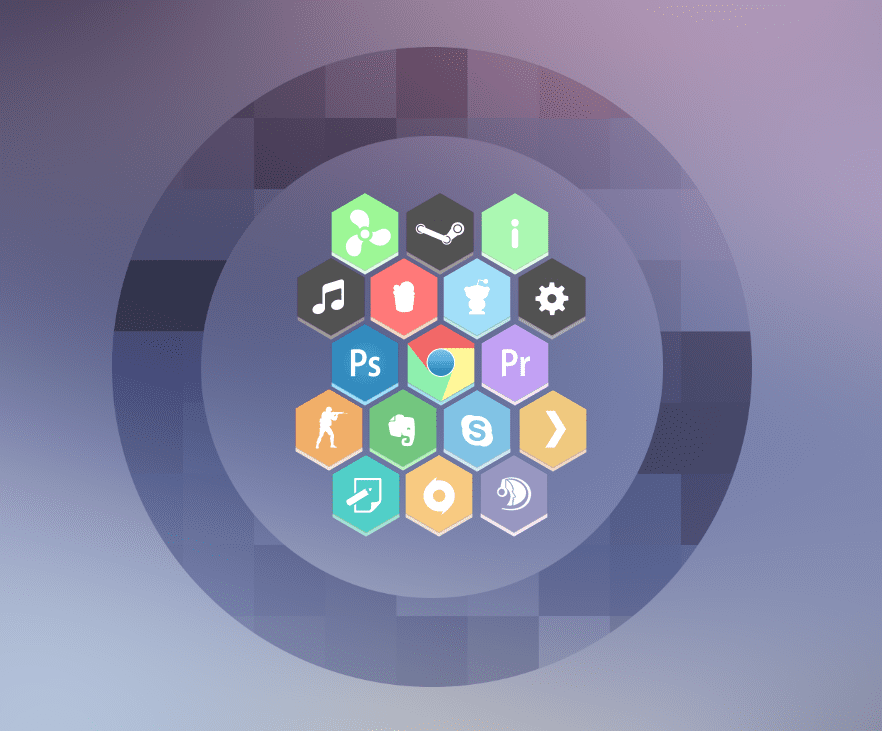 A quick process to fix icons that do not launch.
You need to set the path properly.
1- Right click on the icon and click on "Edit skin".
2- The text editor will open with the icon's properties look for: "LeftMouseUpAction=["…"]".
3- Locate the .exe file of the program that you want to link the icon to.
4- Shift+Right Click on the .exe and click on copy path and paste it where the dots are. For example:    LeftMouseUpAction=["C:\Program Files (x86)\NVIDIA Corporation\NVIDIA GeForce Experience\NVIDIA GeForce Experience.exe"]
Honeycomb Rainmeter Skin
File size: 1.7MB
Author: APIIUM
Honeycomb Rainmeter
Related