Get the Best Android weather widget for free, you can download it on the Google Play Store. Most weather radar app for Android contains ad, and the premium app come mostly without. Samsung Galaxy is the most popular Android device, equal to the iPhone in market share. The best android weather widget apps for Android have been collated below.
When you see your android device home screen and getting all-weather information you need makes Android device so unique. These weather widget will not only tell you about the weather at the view but also makes your device home screen looks so lovely.
Yo Window Free Weather
The slogan of Yo Window is "Watch weather with pleasure" when you first boot up the widget and it truly lives to the slogan. The app is stunning and really lovely weather app. Instead of using the common icons or representation to represent Sunshine, Clouds and rain it displays a cartoon character landscape instead to represent the real-time weather of your immediate and current location.
The light and other conditions are adequately represented in this lovely app, and you can check the previous hours as if you are browsing an online film to see other changed in real-time. This weather app is really unique widget app which is not just having a captivating look but also have a great easy use functionality.
You can get it free but it comes with a paid ads and if you need the ads free you will pay a token. You can download via this link here on Google Play store.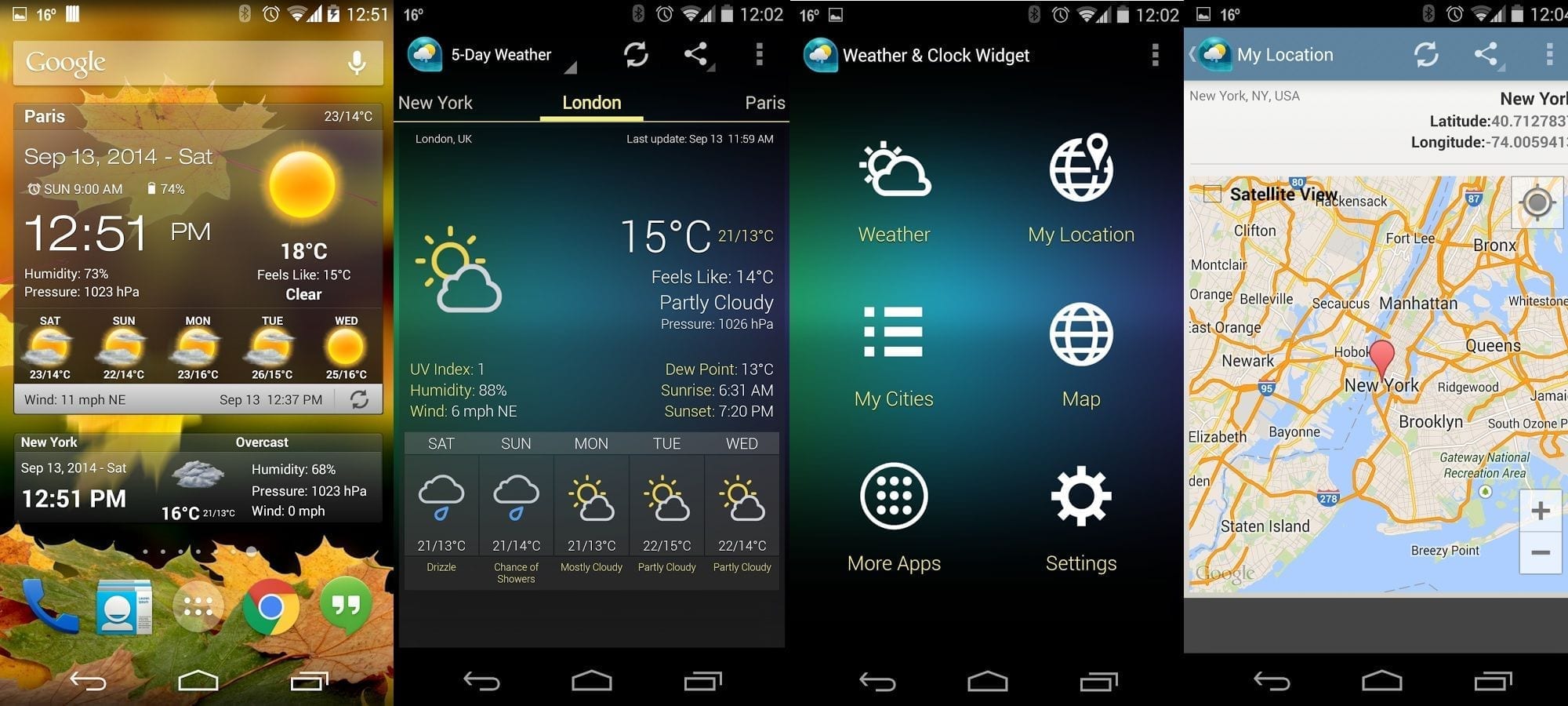 1Weather
This is another great App which has been available for a while now and it is not just one of the popular widget for weather on the list it is but one of the high rated widget apps. It contains a very standard and great features that you will really like for your hourly and daily forecast which comes with access to more added information. The application is well designed.
It has a function that has a daydream support, Android wear support, DashClock support and it readily in more than 25 different languages. The weather widget app is very powerful, it has an easy to use function and has a lovely look. It is free but it comes with paid ads and it comes with ads free.an
Click here to download on Google Play Store
Go weather
This is one of the best widgets for weather for Android device and it is known to provide accurate weather information and it has over 100,000 locations worldwide and it has over 1000 themes which make this app unique and rated one of the best weather widgets and a good weather platform for sharing all-weather related photographs with other users.
It is available for free with ads but if you need the pro version it is available with the in- app purchase and it comes with ads free and provides access to all the premium widget themes.
Weather and Clock widget
This is a simple app and it works well on your android device. You 'll need to click and select the actual widget on your device and you 've done almost 80 percent of the job. It is really a nice app with good captivating looking widget application that shows you the current weather. It has customization options but it is not that unique though but although the widget has great performance and it has great reliability which is top-notch. And it has a good high rating on Android play store.
Download it here now on google play store 
Accuweather
Accuweather is another great free weather widget app that gives you the immense information you may need which included the extended forecast of weather, daily forecast and hourly forecast and overall the app is carefully designed. It has other features which include the MinuteCast features, Android Wear support features, and radar . The application is well designed and the look is really great.
Please download the Accuweather widget app here 
Go Weather Forecast and Widgets
The Go weather has been in existence for a while now and one of the favourites for most Android device users and it has a high-ranking as one of the most popular and successful. It has great features like the current radar, weather, forecast and it combines with a sleek design, good weather widgets, it also combines with wind forecast, lifestyle tips and much more. The free app comes with paid ads and the paid version comes with ads free.
You can download it here on Google play store by clicking here