Any iPhone not charging is as good as a piece of toy, frankly speaking what use is it if your iPhone wont charge. Apple makes one of the most expensive mobile phones and maintaining it does not come cheap. The thought of making an appointment with an Apple genius is disturbing cash wise.
I will give you solutions that Apple geeks will use to solve your iPhone charging issue, though one of the solution they may give is asking you to buy a new phone. I am here to give you hope if you have gotten to that state of buying a new phone.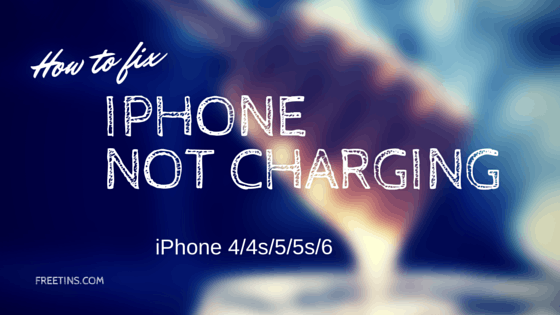 There are several ways of fixing an iPhone that wont charge, some are rather simple and some complex. You may have to buy some accessories to make it work, or get help from a geek at a lesser cost than what Apple will offer.
iPhone not working, then what else.
If your iPhone is not working and it is under guarantee, my take is that you return it back to the Apple store for fix. But before you do so take the simple precautions to decide if it necessary to spend that time with the Apple geek.
Beware of refurbished iPhones, it is not totally fail-proof. Even new ones are not.
Basic checks to troubleshoot your iPhone that is not working.
Check the wall socket or wall adaptor for any defect or fault. If you can get another charger for the model of your iPhone, use it to test if the fault is from the adaptor.
Try other light sources within your environment, the power point might be faulty. Try to use any other power point within the room.
The cable itself my have issues, sometimes internal cut or cut by the neck of the iPhone connector or adaptor connector might have issues. A close look and inspection will detect that for you.
If you are using a keyboard, car charger or dock station, the charge passed on to the iPhone might be very insufficient. If that is the case you will have to try the wall socket.
Dust and rust is most times the number one reason the iPhone is not charging. Get a clean toothbrush to brush the charging port, you will be surprised at the amount of lint and fluff that will come out.
You can also use a toothpick to clear the fluff off your phone. If it is rust you may need to gently scrape the rust off, however a liquid damage does not go away quickly. You may need something more, get in touch with iresq team for cheaper solution.
iPhone 4/4s/5/5s/6 not charging or turning on
Restarting you iPhone can solve a lot of problem, to do so hold on to the power button and the home button until for about 20 to 30 seconds. The iPhone will restart, you will see the Apple logo come up during the hard reset. The reset or restarting does not wipe your files or information.
If your battery is truly dead or bad, your iPhone will not charge. At this point you should have tried all the solutions and you can visibly see the lightning sign on the battery. Before concluding that the battery is bad, your iPhone battery life would have been very short almost warning you. If this is not the case please do further diagnose.
Charging cables is a common reason for iPhone not charging,  if you use an unapproved charging cable. The phone software may reject it, by not charging the phone. Get Apple certified chargers.
This solution will work for 9 in 10 people, most of the challenges with the iPhone not charging can be solved without visiting the tech guys. This fix works for all iPhone models, iPad and iPod.
If you have fixed the issue, share how you resolved it. In any case, if you cannot find a workaround book an appointment with Apple Genius online to avoid the long wait. I hope the iPhone not charging fix works for you.