Learn how to bypass the Samsung Galaxy S model lock screen password with this guide. There are times we change our lock screen pattern or code because we have compromised it, or probably it is a new phone. I remember how I feel when I did not remember my phones password, I can vividly remember drawing the pattern, but for the life of me I could not figure out what the pattern might look like.
Thanks to the feature added to android which is present in most Samsung Galaxy models, I was able to reset my pattern and screen lock. The look on my face was priceless when I got it fixed, the agony of going through the process of flashing, reset or whatever might be required was solved with one simple solution.
Note: I am perfectly aware that phone thieves will also be reading this article, I am happy to announce that the method will not work for those who are not the legitimate owners of the phone.
That been said I will like to delve into the core of the matter. I am aware of six methods of unlocking the lock screen pattern and password, I will be starting with the simplest and most efficient method.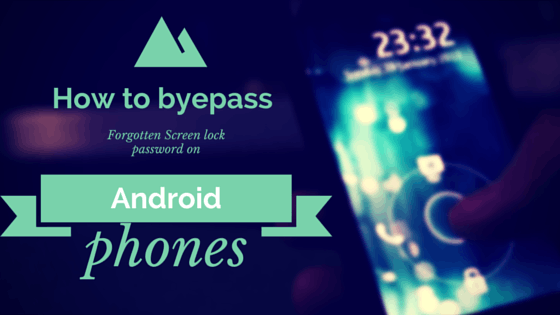 Unlocking the Lock Screen Pattern
The lock screen pattern consist of a 3 x 3 dots you will have to trace a pattern on to unlock your screen. If by any chance you forget this pattern you will be locked out. How then do you reset this pattern.
To reset a screen lock pattern, follow the steps below.
Draw a wrong pattern multiple times until you have exhausted the number of pattern tries you are allocated.
You will notice a message saying you cannot try again until a certain time.
You will also notice a sign forgot pattern on the screen, it is easy not to pay attention to this detail.
Click on the forgot pattern button, a new page asking you to input your Google account username and password will appear. The Google ID must be the one you used for the Google store. If you have not configured google on your phone this method will not work. If you do not have internet on your phone it will not work.
Login with your Google account username and password, then go ahead to reset your screen lock pattern by drawing a new one.
Then confirm it to complete the process.
You would need internet connection and the Google account your registered on the phone.
To reset your screen lock if you do not have a Google account.
This feature am about to share with you is available in all android smartphones, I am hoping the wrong people will not take advantage of this method.
If you do not have a Google account registered on your phone, to unlock your screen you need to get a clean reset. This clean reset sends you phone back to factory status. All information on the phone will be lost, except those on the memory card.
To perform a clean reset, follow the steps below.
Hold on the power key, home key with volume up. Until the phone vibrates.
Release your hold on the power button and continue with the home and volume up, until a black screen interface appears.
Select wipe data and factory reset, this will clear all data on the phone and reset it to factory setting.
Volume key is used for scrolling up and down, while the power key is used for selection.
Select delete all user data, this will start the reset process.
Reboot the system now is selected.
You phone will be back to factory state, without pin, pattern or password.
Find my phone screen lock reset.
Go to Samsung Find My Mobile.
Sign in using your Samsung login details.
In the Find My Mobile account interface you should see your registered phone on the left hand side. Your phone must be registered to benefit from this application.
On the left sidebar, select 'Unlock my screen'.
Now select 'Unlock' and wait for a few seconds for the process to finish.
Using a software to reset your screen lock on Samsung Galaxy
I have not tried this method, but it works for most mobile phones.
Login to Google Play store via your PC using your Google account.
Find a lock screen bypass app, install and activate it.
I do not think this method is of any benefit, if you can simple reset your lock screen with your Google account used on the device.  The software method relies heavily on the use of Google account to sync the app download to your phone.
Sincerely I am yet to figure out, how this will work out.
Share which of these methods work best for you, it is nice to know that the feature is also applicable to most android phones. This guide shows you in detail how to bypass the Samsung Galaxy S model lock screen password.