Features Articles
How to delete Gmail Account Permanently without password – PC & Mobile
---
I will teach you how to delete Gmail account permanently this requires some simple trick be it on PC or Mobile device, you can delete your Gmail account permanently and still have access to other Google products. Do you know you can access google with an email from another domain other than google email account.
Google has succeeded in collecting data from millions of its product users worldwide, the most common reason most people use Google product is the email service and the Google Play Store access. There are several reasons why you may have decided that your Gmail Account should be deleted permanently, well that none of my business. I am here to teach you how to get it done with ease and without confusion.
All data collecting companies do not like it when one of their data sources is quitting, this may sound vague; you need to understand that they offer free service. However the also track user behavior, source, habit and more. Though you will be told that the data is collected anonymously and would be sold to a third party. It has both the good and the ugly side to it if properly analysed, not to demonize this companies they are offering a great service and millions of value have been deprived from using their products and services.
Step by Step Method to Delete Gmail Permanently
Type the url or click  http://www.google.com
Click on Sign in and enter your Account ID and Password
Once you are logged in, click on the logo icon or your account id to reveal a dialog box.
Click on My Account or Account as the case maybe.
This will take you to a new page that contains more information.
Look carefully, you will see a tab called Account Preferences
Under this tab look for Delete your account or service and Click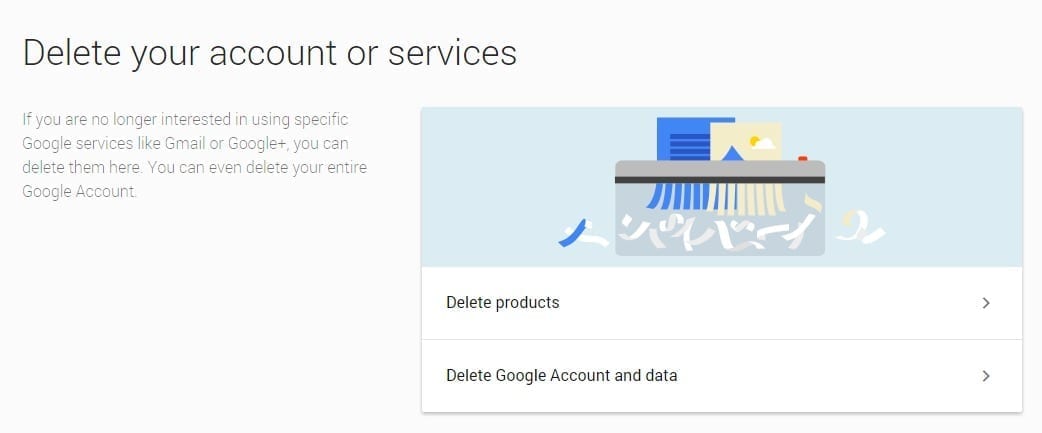 This takes you to another page where you will be asked if you want to delete your Google account permanently or you want to delete an account for a particular service(s).
To delete Gmail permanently, Click Delete products.
You will be ask to enter re-enter your password after you click Delete Products.
Once you re-enter your password, you will be shown all google products and services you have registered for.
If you want to backup your data, you have the option to download the data on your system.
You can now delete the one you desire, in this case you can proceed to delete Gmail and any other account you wish to delete.
Follow any other prompt you given, to complete the delete process.
Ensure that Yes I want to permanently delete xxxxxxxxxxxx and remove it from my Google Account is checked.
If you desire to change your email address, you can now add it below and enter your current password to complete the process. Any email ID outside of Google would do for this purpose.
Then click on remove from Google.
By doing so you have successfully deleted Gmail Permanently.  Depending on the volume of data you have it may take a while for that to be completed.
How to Delete Gmail Account Permanently without Password
If you are avoiding logging in to Google before you delete your Gmail account, my best guess is that you are either attempting to do the unthinkable or you do not have access to the account anymore.
To delete Gmail Account Permanently without password, you need to restore your account first via alternate email, mobile number pin or secret question answer.  If you can restore the account and successfully login, follow the instruction earlier to delete the Gmail account.
You will have to login to delete your Gmail Account, so recover the account first before proceeding.