Is wmiprvse.exe causing high CPU usage on your PC, the solution to this is to first determine if wmiprvse.exe is a virus or a genuine executable file from Microsoft.
You need to understand what wmiprvse.exe does before you delete it or tamper with it in any form. Though Microsoft has provided patches in the past to fix this issue, it was limited to Microsoft Server 2008. Since then they have provided patches on other version of Microsoft, however the problem still persist on some PC.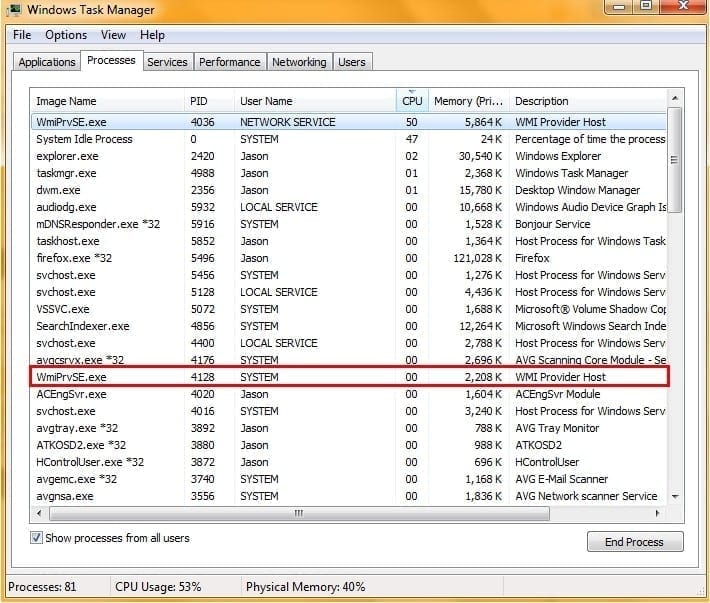 If you access the systems task manager, you will notice a file with WMI or WMI provider host. This file controls the wmiprvse.exe function of the larger windows core system file.
By default you will find the file in any of these folders C:\Windows\System32 or a subfolder if system32 C:\WINDOWS\System32\wbem\.
What is wmiprvse.exe
wmiprvse.exe is a Microsoft Windows-based part that provides control and information about management in an enterprise environment.
Developers use the wmiprvse.exe file to develop applications used for monitoring purposes. These programs can tell users about important events related to network and file or application management right after each event occurs.
With wmiprvse.exe, file managers in the enterprise environment are capable of configuring and searching for desktop system information or network and application information across the network.
Based on the understanding above, it is suitable for enterprise and developers. However the burden of wmiprvse.exe is borne by personal system users.
Easiest fix for wmiprvse.exe
Scan your computer for any malware or virus, if the result turns out negative. Proceed with the next step.
Restart the "Windows management Instrumentation" Service. The dependent services will restart in the proper order and you'll see the CPU go way down to normal levels.
The fix will work if the high cpu usage level is not caused by a virus under the disguise of wmiprvse.exe. Some virus take on the form of wmiprvse.exe to wreak havoc on the PC, therefore using more resources than it ought to use.
To restart wmiprvse.exe
Start the task Manager,
Locate WMI process host and end process
confirm this and close the task manager.
Proceed of services window.
Search for services.msc to bring it up
Double click on Windows management instrumentation – WMI stop the services, if you want to refresh then restart services. Click yes and go ahead to search for virus or malware on your system.
If you do not detect any malware, you can restart your services or start it if you have stopped it.
Detecting the virus in wmiprvse.exe form
There are virus injected to attack the system, they come in the form of wmiprvse.exe. Most of these virus live outside the system32/wbem of the C:/ drive.
If you see a variant with the name wmiprvsw.exe, it is confirmed to be a sasser worm. While most wmiprvse.exe  file outside the system32/wbem is a virus.
A virus called w32/sonet-B is notorious for dropping itself in the system32 folder with a filename called wmiprvse.exe.
If wmiprvse.exe is in the runtime error pop up it is a sign that it is either rewritten or corrupted. If there is an incompatibility issue it may also pop up.
If it is caused by a program, uninstall the last program installed on your system.
Common issues or causes of high CPU usage with wmiprvse.exe
Frequent shutting down of system.
Blue screen of death
Consumed memory allocation
High CPU usage causing the system to freeze.
Corrupt drivers especially un-certified or modified drivers.
Some antivirus causes the error, especially avast.
Multiple instance running in the task bar is an indication of an issue.
Side effect of deleting the original wmiprvse.exe
If you delete the wmiprvse.exe file, you may find out that you will not receive any windows update again and it will be difficult for you to install any program on your system.
The file is a standard file for updating the programs on the system, hence it is advised your resolve it without deleting the original core file.
It is okay to remove the virus, if it comes has wmiprvse.exe, in this case you may find two instances of the executable file in the system file.
If you notice a pop up with wmiprvse.exe instance it is most likely caused by a corrupt file or program. Delete the last program or driver installed to fix.
The solution is not to delete the original file, you need to identify if you system is attacked by a virus mimicking wmiprvse.exe or use the method highlighted earlier to resolve it.