Vernee Apollo Lite Review – Specs, Price, Camera, Pros and Cons. It is an analysis of the full features of the phone, especially its powerful camera. The storage, battery life, memory available, processor, connectivity and also display will are taken into consideration when reviewing this smartphone.
Vernee Apollo Lite Review
Vernne is a smartphone start up company from China, they shook the market as they were able to manage to announce and launch two sleek and interesting devices within a short time. As the current trend of smartphone market goes high, the competition gets tougher between Chinese smartphone makers versus giant name in the industry like Samsung, HTC, Sony etc.
But if we are comparing in a segment of price and hardware specs the Chinese Smartphone manufacturers are really having a stronger edge, there is a tough competition going in the budget friendly smartphone segment. It is believed as one of the cheapest device, that is if not the cheapest device with a Helio X20 chipset in the market.
A Quick Overview of Vernee Apolla Lite
Vernee Apollo Lite is a brand new 4G smartphone that was Launched June, 2016 with a 5.5" screen Full HD sharp and brilliant display, it has the new HELIO X20 CPU, a deca -core 64 bit 2.3 GHz CPU and also a Mali T880 GPU that is optimized for great and better performance and it also as a 4GB RAM and a 32GB ROM.
It runs on Android 6.0, it has a 16MP Samsung rear camera f/20 and a Samsung 5MP front camera F/2.0 that is good for selfies and video calls and it can also record 4K Videos.
It also comes with a 3rd Gen Fingerprint sensor, Metal Unibody, a 3180mAh battery for long battery life and with a Pump Express 3 fast charge at 2A and 12V, a Type- C Connector which is used for digital music output and it comes with a Corning Gorilla 2.5 arc glass for screen protection.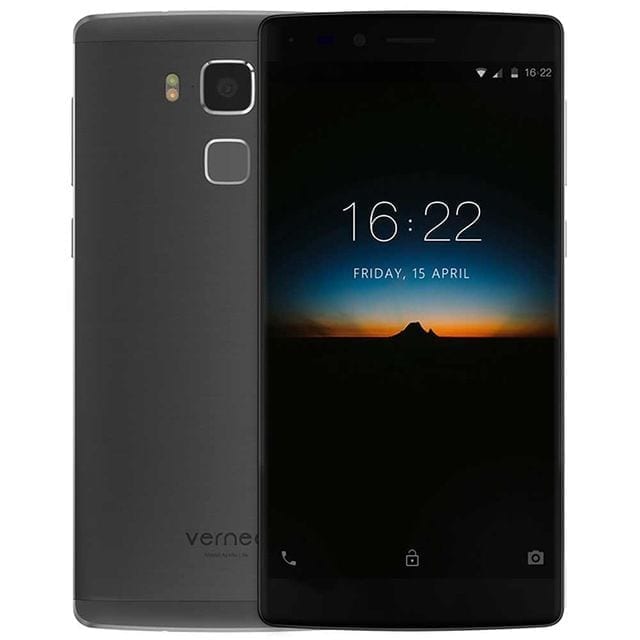 Design
The Vernee Apollo Lite casing consist of Aluminium entirely, it does not give much of an upscale feel when you grab your phone in your hand. The dimension of Vernee Apollo Lite is 152x 7.5 x 9.4mm and the thickness is 9.4mm and it is a compact 5.5inches screen smartphone. It weighs about 175g and it has its centre of gravity in the central region that gives the sense of quality in the device.
Vernee Apollo Lite comes in two color silver or gray. The device has a easy touch and the feel is good. It is scratch resistant, and it has a notification LED display that lights up in different colors of choice.It has a fingerprint sensor that is located at the back of Vernee Apollo Lite device and it is about a millimeter deep into the housing of the device. Vernee Apollo comes with a 16MP rear camera. 5MP front camera anf it comes with two slots for SIM Cards (Micro and NANO).
Hardware
Vernee Apollo Lite has a brand new performing Helio X20 ( Mediatek MT6797), A Deca- core 64 bit CPU at 2.3GHz, a Mali T880 GPUU, it has a 4GB RAM and a 32GB ROM. The Helio X20 (MT6797) consist of 10 cores at 64bit and 2.3gHz. If we are to compare to the older generation X10(MT6755) it has an 100% increased performance. If we use the score of Antutu test Benchmark Helio X20 gets 91851 while Helio X10 GOT 43786. And the CPU make use of the 16 core Mali T880 GPU for a more faster, dependable and more reliable performance, good gaming experience and muilti tasking purposes.
Display
Vernee staes that they have a deep established cooperation with Sharp for customized IGZO screen for the Vernee Apollo Lite. Wondering what IGZO stands for it means: Indium Gallium Zinc Oxide this is the element that create semiconducting material used in this type of display. It has about 20-50 times the electron mobility of amorphous silicon used in Standard LCD display which includes the low off current and more power efficient which is also lighter and thinner. The screen of Vernee Apollo Lite is 5.5 inche diagonal size and an FHD display resolution (1080 x 1920). It covers 95% of NTSC color space, the screen is protected by a Corning Gorilla 3 with 2.5D curved edge.The Vernee Apollo Lite has a good video response without a lag. It also make use of the Helio X20 BluLight defender technology and a Chameleon Display.
Camera
Vernee Apollo Lite comes with a 16 MP Samsung S5K3P3 with innovation of combining the ISOCELL technology with the RWB(Red-White-Blue), and also a 5MP Samsung S5K5E8 CMOS BSI front- facing snapper for cool selfies and video calls. It has the capability of recording 4k Video and it functions with a PDAF auto- focus. It has a dual LED Flash with 2 color supported that is good for taking pictures and video recording in the dark. The Auto focus does its work well and the trip is hard to notice.
[amazon_link asins='B072PY5P74,B01JR7BRBW' template='ProductGrid' store='sacoiwa-20′ marketplace='US' link_id='5c060fee-a923-11e7-81c6-dd34cc9765fe']
Battery
The Vernee Apollo Lite comes with a 3180mAh Li- Poly battery and thanks to the Android 6.0 OS optimization that allows it to easily reach the end of a whole day with a just a single full charge, even with an intensive usage of the battery. It also has a fast recharging technology " Quick Charge PE+3.0". The MediaTek's Pump Express 3.0 Technology that comes with a fast charging with 24W (5V, 7V, 9V/1.5A,12V/2A) is fast and safe and allows a fast charging from 0 -75% within the time duration of 30mins.
Network
Vernee Apollo Lite supports LTE 4G+ network and comes with a speed of 300Mbps download and 50Mbps upload. It features a dual SIM standby function (Double sim) or one Sim plus a Micro SD card slot up to 128GB (Sim  + TF).
2G network GSM 850/900/1800MHz
3G WCDMA 900/2100MHz
4G FDD- LTE 800/1800/2100/2600MHz
Wireless Connectivity: 3G, 4G, GPS, GSM,Bluetooth 4.0,  Wi-Fi 802.11a/b/g/n
Fingerprint sensor
0.1 seconds Unlock
Pressure type fingerprint sensor
Off screen wakeup
The Vernee Apollo light comes with a sensor at the back of the phone case and can unlock the phone in just 0.1 seconds with safety and it ll detect your fingerprint at 360 degrees
Smart Fingerprint management
App lock functionality.
Operating System
Vernee Apollo Lite runs on Android 6.0 Marshmallow OS. In the future the Vernee are planning to launch their own operating system to ensure users great experience it is ongoing updates currently and with the name VOS.
Vernee Apollo Lite GPS
The smartphone has a strong GPS reception, and within a short time the smartphone connects up to as many as 15 satellites and determines the position real quick and accurate. Also there is a compass that helps navigate pedestrian easily. The sensor of Vernee Apollo Lite has Brightness, Accelerometer, proximity and Magnetic field sensors.
Summary of Vernee Apollo Lite Review
It is one of the most powerful budget price and pretty smartphone. It has a sleek design, a good hardware and it has probably one of the cheapest Helio X20 smartphone available in the market. So overall scores i will say it is a good must buy budget phone under $250.