Adblock vs Adblock Plus pros and cons compared shows the major difference between the services. Most Chrome, Firefox, Opera and Safari users have the adblock for the browsers now.
As we are not new to the fact that the ad blocking extensions like the Adblock Plus, Adblock, Adblock Pro are now becoming so popular and they already have more than 200 million users. It is known that both the Adblock Plus and Adblock have more than 50 million active users. A lot of questions may be on your mind like, are Adblock Plus and Adblock the same? Or they are different?
How do I make the best choice between the two? Which is the best out of the two? Which one suits my need? You will definitely need these two if you are the type that hates ads because they're effective in blocking of ads of any types which also include display ads, pop-ups, text ads etc on all sites.
They not just help in providing ad-free seamless browsing without irritating ads or pop ups and it also enhances your browsing speed because this Ad script takes up a lot of time to load completely.
Adblock vs Adblock Plus
These are very popular ad blockers for your browser, although it may sound similar to the names but they are different extensions which are independently developed. The inspiration of Adblock Plus came from Adblock then it was just an add-on on just Firefox. Now Adblock plus is now available on Google Chrome, Safari, Android, Internet explorer, Safari etc and we have Adblock on Safari, Google Chrome browser, and iOS.
Adblock Plus is said to be the most popular add-on Firefox add-on which has more than 21 million users and whereas Adblock is said to be most popular Chrome extension on Google Chrome. Adblock has twice the rating of Adblock Plus in the Chrome Webstore market.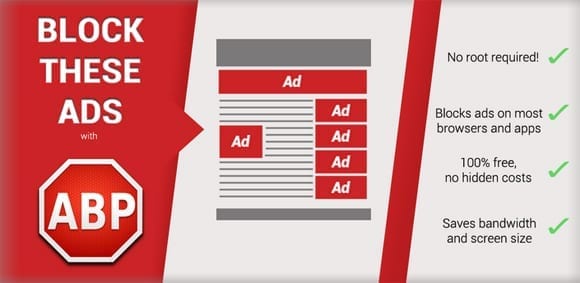 Adblock vs Adblock Plus (Features)
The Adblock for Chrome browser and the Adblock Plus for Chrome both offers some really similar basic features which include Shows the number of ads that has been blocked, Malware protection, whitelisting and blacklisting and also acceptable ads options.
The Adblock and Adblock plus both make use of the same filter which is called the EASYLIST which is created by Adblock Plus which means any ad blocked by Adblock will also be blocked by Adblock as well. It is also both Adblock and Adblock Plus both allow the Non-intrusive advertising which means it will not block ads that are been considered as acceptable adds  and it will be whitelisted.
Well, big names like Google and other  advertising companies have already paid Adblock Plus not to have their ads been blocked and they are paying Adblock plus licensing fees for having their ads whitelisted.
It does not have a lot of options than the so obvious whitelisted domains and the Custom filters and there are options to either enable or disable.
Adblock Vs Adblock Plus (Advantages and Disadvantages)
Adblock Plus
Advantages
This is an Open source
It is known as most popular extension on web browser
Allows easy manual whitelisting , just like inputting a URL on the web browser tab
Helps block pop-ups, malware, and pop-unders
It blocks your ads on Youtube and Facebook
Disadvantages
The advanced options are available but it has been hidden
If you wish to enable any features then you will have to do it manually.
You can use the browser extension button to help block some particular web page elements
Adblock
Advantages
It is known as the most popular extension of Google chrome browser
It uses the same ad filter that is used by Adblock plus
The extension button of Adblock has more use than that of Adblock Plus; and it gives you more options and user has more control over it ads blocking functionality
Its right click is more useful to block virtually all elements on your web page.
It helps block pop-ups, malware, and Pop-under
It also has the capability to block YouTube and Facebook ads
Disadvantages
This is a project that is an open source; but it is not displayed on their homepage or on either the extension page on Chrome.
It is now becoming a commercial base and it has some privacy policy that is of concern
It also does not block ads all that is it believed to be non-intrusive; and it is supposed to give options to enable it.
The major difference is purely based on your need and requirements. It is good to remember that we might need to see some of these adverts. The adblock and adblock plus though good, prevent you from seeing some ads that will be beneficial.
Also a number of business and companies rely on ads to get to their potential customers. Adblock and Adblock plus is good if you are a compulsive buyer and spender.