Do you want to get iPhone Emojis on Android without root or you do not mind with root. Change boring Android emoji to iOS emoji that help you type faster and get a lot of message across with minimal effort. It shows your expression in a visual form. Japanese mobile users have been enjoying emojis long before the rest of the world, about 58% of their conversation is expressed in emoji style. Now that the rest of the world is catching up, some awesome emojis are not available on android.
It somehow funny when you get nice emojis from your friends on whatsapp, Facebook, Messenger, Instagram and other social network and you do not have one that will express your feeling well enough. The best solution in this case is to change the emojis style on your android phone. iPhone has a good library of emojis that are awesome, you might want to have them on your android device too.
You will find below how change and install awesome emojis that will clearly express you feeling. Truth be told androids emojis are boring compared to iPhone's emojis. It will also surprise you that iPhone is also not having the very best, Yes! There are some emojis you can install on your android device that will make iPhone users turn blue when they see yours. You can get them on your android device without rooting it.
Awesome Emojis to have on your Android without Root
The aim of this guide is to change the default Android Emoji to the very awesome and expressive one without root.  Changing the core emoji will keep it form constant and filled with expression. Lets roll deep into the various methods we can use to change the feel of our emojis on android.
Front end developers and UI/UX developers know that icons can be converted to fonts, you can create your own icon and integrate it into any project your are working on. This is also applicable to emojis, where mobile device manufacturers like HTC, Xiaomi, Samsung and Huawei have features that can easily integrate emojis has fonts into the android device.
This mobile manufacturers have long perfected the art, due to popular demand in Asia as most of them have their root their also. For other manufacturers it is safe and advised you root your android device to avoid irreparable damage on the device.
Installing Third Party Emoji APK on Android
Most apps with emoji fonts have been removed from the Google play store, the reason is because devices that are not compatible are not restrained from downloading them by the developers. This has caused harm to some android devices, it is advised you check if your phone is compatible first.
The option we have is to install a third party Emoji APK font. To do this we need to go to settings, and enable the unknown sources, if you have installed a third party APK in the past, this will not be new to you.
Settings >> Security >> Tap or check unknown sources. This should prompt a warning, say yes or accept then move to the next step.
Once you have downloaded the Emoji Font APK of your choice, the next step is to activate it on your device. Go to the Font settings, this can be found following this part.
Settings >> Display >> Font/Gesture select the font Emoji Font 3, this will change the font on your android device. The size may look a little bit awkward, reduce the size of the font to a lower one to create a pleasant feel. It time to visit your favorite app and show of your new emoji.
Note: Remember that not all devices are compatible with this emoji font, also if you use Android OS 6.0 Marshmallow on any of the compatible device. Emoji Fonts for FlipFont 5 app is available at the Google Play Store. It is way better than the default android emoji font pack. In addition someone also added that Samsung and HTC devices running on the Android version higher than Lollipop 5.1 will need Emoji Font for Flipfont 5.
Expressive iOS Emojis for all Android Phones – Root Required.
A lot have been said about, root is this, root is that. In some instances it is the only way to go, if you have previously rooted your device, this is not going to be a challenge for you. So let us get started with this.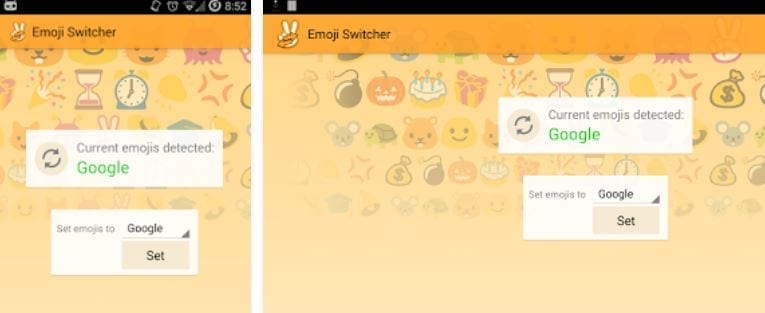 Opting to root gives you more power to adopt any emoji you choose to have on your android device.
Start by opening and downloading the root option => Emoji Switcher APP.
Once downloaded it will prompt you to grant access to root it. Accept or allow it. Once you have done that you will be presented with an array of emoji option to choose from. Select the very iOS 10.2 Emoji been the latest and set it to initiate the installation process.
Once this is completed, reboot your device and start using the brand new iOS emoji on your Android phone.
The method you choose to change emoji style on Android without root or with root depends on your device version, manufacturers and some salient points.
If you change your emoji style on android to an iOS emoji style successfully, you are now officially a tech geek. Kudos, let celebrate with you in the comment below with some emojis.