Spaceship Cockpit HUD is a beautiful Rainmeter skin, you will find instruction on how to install the theme inside. The theme is, however, an inspiration to anyone who loves good design and creativity. The Rainmeter Skin can be recreated using tools and plugins as indicated in the files and Rainmeter Skin's used.
Original Wallpaper by Zane Bien (*z-design), altered by myself using Photoshop. Almost every element there is a Rainmeter skins – the whole thing moves, blinks and is animated. WIP

Used & altered with permission from z-design. Original one here: fav.me/d200bxj

Rainmeter skins used: xclock (2 times), RoundHDDMeter, LymeMeter, Implosion, GITS_Nathe, Blue Vision V0.2, Binary Clock (all code)(13 times), Bars II and Arcs, AllYearCalendar2010, Alienware Xenomorph Windows Theme
This may seem like a lot of work to do, you can start small and gradually build it up to get the look and feel of the Spaceship Cockpit.
This theme does not have a support, it is now more of a wallpaper inspiration for would be modifiers and anyone interested in reconstructing it. This Rainmeter skin has been a source of inspiration for many Rainmeter skins.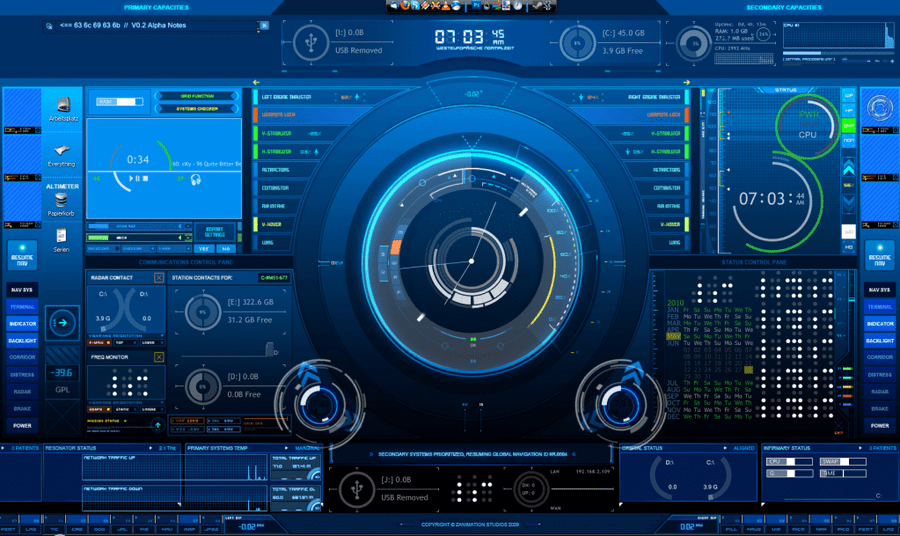 Spaceship Cockpit HUD – Wallpaper to Rainmeter Skin Inspiration
File Size: Not available.
Author: TheZeis
Inspiration for Spaceship