Pokemon Go APK download for Android is now available for most devices; you can now download the latest updated Pokemon Apk version that is compatible with most Android devices. Pokemon Go has over 100 Million downloads on the Google Play Store; this number is still climbing.
Pokemon Go is developed by Niantic, Inc, though the brand name Pokemon is synonymous to Nintendo. The recent release of mobile devices has made the app more popular, though there are still some challenges with the app. The recent update on the Pokemon Go app is 0.33.0.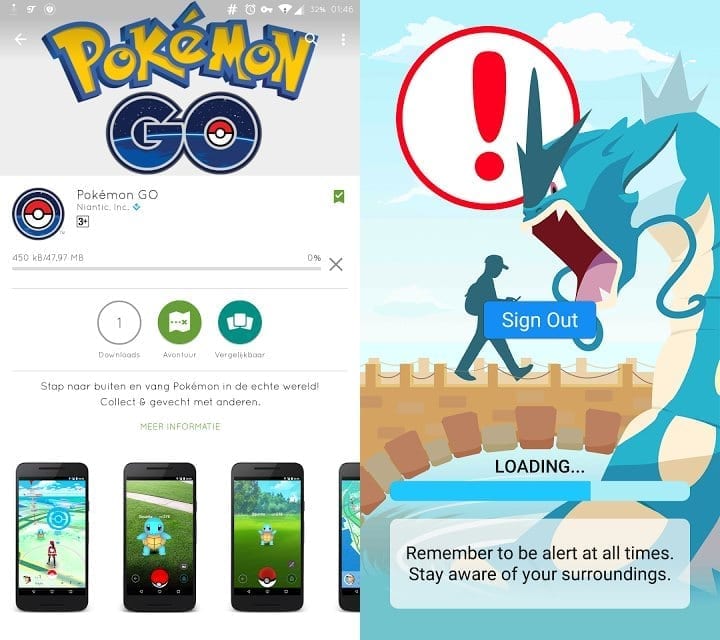 This guide will teach you how to download Pokemon Go app on your mobile phone regardless of your location, and also if you prefer the Pokemon Go Apk. A quick look into the features will prepare you for the game and also what to expect.
Features of Pokemon Go APK
The game is the most downloaded game in the last three months with over 100 million download and a staggering 4.3 million reviews. With over 2.7 million giving a solid gold 5-star review about 570 thousand posted a bad review. The bad review is mostly from user experiencing issues and challenges with the way the app work. Some are concerned about security and sanity.
The Size of the app is 61MB, with the latest version 0.33.0.
It requires Android 4.4 and higher to work.
There are in-app purchases of between $0.99 – $99.99 per item
The app allows users to interact, share info, and location
The latest update corrects most issues early users have
How to download Pokemon Go without restriction on Play Store
You have searched for Pokemon Go on your play store and what you see mostly are guides, maps and not the real deal. To identify the official Pokemon Go App on the Google play store, the developer's name is Niantic, Inc. The Pokémon Go app is not yet available in stores globally; it is currently released in phases, however, to join the party you need to download the APK or use this nifty tool to download from the Google Play Store.
To Download Pokemon Go on Play Store
Download the mobile version of this VPN for free, change select USA, Canada, or UK to change your IP address.
Go to the Google Play Store and Search for Pokemon Go, you will see the Niantic, Inc below the name. Click to and start the download.  This is a direct link to the Pokémon Go on Google Play Store.
How to use the downloaded Pokemon Go APK 0.33.0 downloaded.
On your phone go to Settings.
Tap on Security (also labeled as Privacy on some devices).
Go to Unknown sources.
Tap Allow for the installation of apps from unknown sources. This will allow you to install Pokemon Go.
On your phone, download Pokemon Go from here.
Now simply go to the Downloads folder on your phone and install it.
You can now play Pokemon Go on Android.
Now with the steps above you can download the Pokemon Go on your Android device if you are located outside, the USA, Canada, UK, Germany, Australia, Japan, and New Zealand.
Resolving common issues with Pokemon Go Download
The app is still in its early release stage, it is expected to contain some bugs, they have released a couple of updates to fix bugs. Please be patient if you experience any issue with the app if the app grays out uninstall and try to re-download using any of the two methods above.
You phone model and type can affect the app, also if you have a cheat Pokemon go cheat previously on your phone.
See Links to possible issues with Pokemon Go.
Useful resources:
GET A MIGHTY VPN DEAL.
Pokemon Go Apk can be easily downloaded following the instruction above, more tips on Pokemon Go will be posted soon.