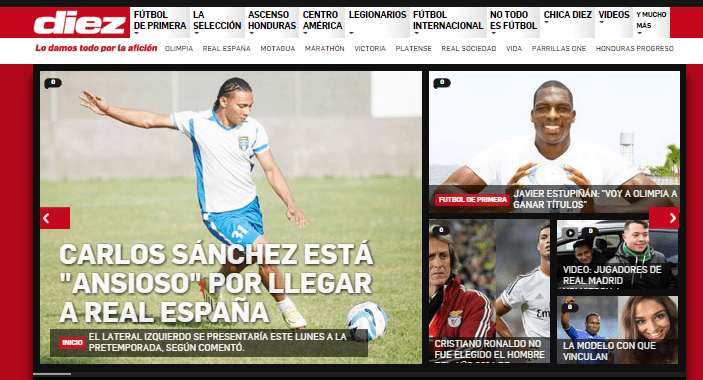 The Spanish sports reporting site diez.hn was established around March 2008 with the sole aim of providing sports news to millions of spanish speaking sport lovers. The site is owned and managed by Buro Internacional de Tecnologias – Honduras.
Diez.com is reported to have hundreds of thousand visitors monthly with majority of its readers from Spain, followed closely by the United States.
Though it is a sports website, the focus is more on soccer, especially the Spanish league and Soccer in Honduras. Other sports covered include NBA, Formula One, MLB, and Tennis. Aside from the Spanish League; the English Premiere League is a very interesting League with famous players and stars, slogging it out with other soccer leagues from Italy, Germany, France and the rest for the UEFA Champions League.
The South American Leagues is one of the most interesting and well followed leagues, with many fans across the continent.  Then other football leagues South America fans are interested in include Concachampions, MLS, MX League, La Liga, Serie A, Premier League, Bundesliga, Ligue de France, Primera A of Argentina, Costa Rica, El Salvador, Guatemala, Panama.
Print Edition of Diez.hn
The print edition of Diez Journal can be gotten for L.749.00 a year, with home delivery across Honduras. International audience may have to pay extra for shipping outside Honduras.
The Diez Magazine Print Edition can be gotten for L.190.00 for a whole year with home delivery. Charges may apply for International audience.
Apple Store Itunes Download for Diez.hn
You can now download the application for iPad, iPhone and iPod
Daily Ten, the first sports newspaper in Honduras.Instant news, top videos, photo galleries and entertainment. Browse, research, upgrade and feel the sport.
Google Play Store Download for Diez.hn
The Android App was recently released September 30, it provides unlimited access to news and sports information as it is on the diez.hn website.