Professional furniture and cabinet makers use a Kitchen and Furniture design software like Sketchup, owned by Google and many others. To produce a CAD or 3D drawing of the furniture a furniture design expert interprets the design using a furniture design software. The drawing produced can be used for programmed cutting, or production. The drawing also help furniture makers interpret the drawing for full production.
The criteria for choosing the best software varies, one way of knowing if a software is good is by checking the community and the support the software has, another thing worthy of note is the software update. How often is the software updated, do they add new features based on end-users popular demand and many more.
A good furniture design software helps you design, draw and produce a visual representation of your furniture design in a clear and lucid way. It should be easy to use with a fairly straightforward learning curve, and its ability to design simple to complex designs and shape with minimal plugins or extension.
The best furniture design software for professionals
In no particular order, you can find below the list of the best furniture design software. They have been selected based on the criteria set earlier, such as ease of use, update and support, others include interface, collaboration features, price, production and ease of distribution.
CADPro
Like most CAD software, CADPro lets you design your cabinet and furniture ideas using unique tools and features to deliver a satisfying end result quickly. This software can be used to design kitchen furniture, cabinets and other home upholstery. It allows easy collaboration, printing, and work efficiency and effectiveness features.
ArchiCAD
This is a powerful furniture and cabinet design software, it has many customization features and supports a wide range of 3D CAD files. It is renders fast and has both 2D and 3D features. The support is good and it is regularly updated to fix bugs. The interface is great, however it cost over $2000 and may not be ideal for hobbyist.
SmartDraw
This furniture design software is the best for cabinet makers, it has an easy learning process, it also comes with templates and pre-made visuals and forms. It auto compiles and arrange projects for all designs created, be it for cabinets, living room furniture, kitchen, office and other furniture designs that can be generated using SmartDraw.
It comes with a trial which allows users to try for a while, the software is easy to use and comes with a big library and production suites.
SolidWorks
This is a good software for 3D modeling and simulation for furniture's especially kitchen furniture, cabinets, and for the office. The have a feel of what the design would look like in reality. For amateurs who have ideas and concepts, especially interior designers, and home owners with concepts and ideas, this software would help you interpret your idea faster.
This software contains library for design components that will make it easy to produce a great furniture design.
Sweet Home 3D
This is one of the most popular furniture design software, beginners often start with this software. It is great for producing a quick design within minutes. It has a fast learning curve and supports a good number of CAD file formats. The beauty of this is that it is free of cost to the designer.
It does have a few limitations in terms of the depth of customization, it may not be ideal for production interpretation and use. However, it will give a furniture maker an idea of what needs to be produced and this may be rendered in a powerful or more advanced furniture software.
Some of its features include, drag and drop, good library, split screen for 2D/3D.
PRO100
PRO100 has a very beautiful interface and design render, it produces a crystal clear image that shows every detail of the design. It is truly a professional design software. It is ideal for cabinet designs, kitchen designs and other furniture's for office, living room, bedroom and bathroom.
The learning curve is quick and allows for quick production. The features are excellent, it saves you a lot of time, especially the distribution tool, collaboration, advanced file distribution and export, and also part swap.
SketchList
sfds
Master Design Art-Shop X-lite
This is a free design software for furniture designs, it is allows designers to make a quick sketch and drawing of concepts and ideas. It is often used by interior designers on the move. The software is also available for android users, so if you have a tablet you can use this to produce a working design.
The software has a lot of libraries and the customization features is superb, you can have a multiview of the finished design and it is also ideal for kitchen and living room designs.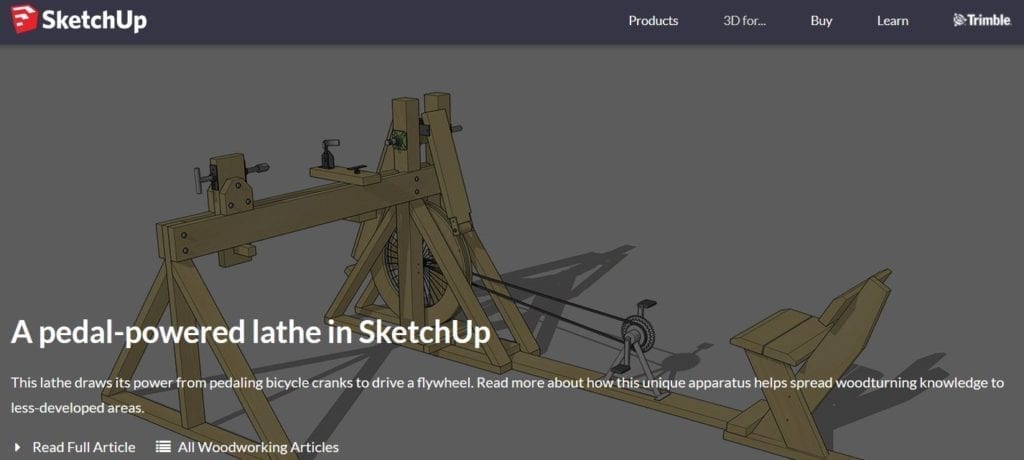 Sketchup
Sketchup by Google is probably one of the most recommended. Like other Google products it has a great support and the development of the software is progressive. It allows designers to create 3D projects from Kitchen Cabinet designs to furniture designs for homes, offices and also for the creation of complex designs.
Do you need design inspiration, check out the gallery of shared projects by other designers to get concepts and ideas of what you can do with the design software. The good part is that you can pick ideas and concepts used by others for your own project. The learning curve is easy with guides. It supports 2D and 3D drawing, it is perfect for beginners and hobbyist.
In conclusion
The choice of good furniture design software depends on how easy it is to use, the project sharing functionality, file format compatibility, learning curve, interface and price.