Cheats & Hacks
Fake Text Message Generator for iPhone iOS 7+ Android Reviews
---
Fake text message generator for your iPhone or Android phone allows you to generate text messages as though it was sent from anyone. This is used to hoax friends to believe you have contact with some persons of your dream.
This could be your dream girl, or the President wishing you a happy birthday. Just about anyone can be the sender of the text message. As always I will place my caveat, do not use it to swindle anyone or play dirty pranks that may lead to unforeseen experience.
I cannot at the moment create one of the fake text message generator for this site, but I have compiled the list of websites that can get you what you want. The two major types of mobile operating system that would be looked into include.
iOS for iPhone
Android
In future I will compile or update this resource to contain Windows Mobile and Blackberry. That is if we have more demand for blackberry. You can also comment below; if you want me to provide you fake text message generator for a particular mobile operating system.
 Fake Text Message Generator for iPhone iOS 7+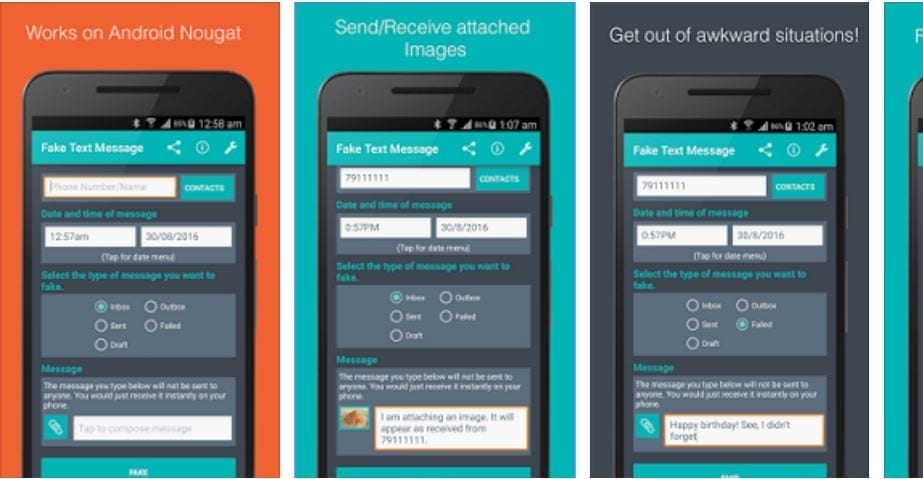 iOS7 Text
This is a fake text message generator designed for iOS 7, which of course is an iPhone. To use this fake text message generator.
Visit the iOS7 Text site, then
Modify the message on the iPhone screen on view.
The settings bar by the left is used for name change, network name change, time change it essentially for customizing the phone view display to fit what you want.
The next shows adjuster for the battery level
Followed by connection  setting, signal bar and type of connection.
Then finally to the most important part, messages.
Here you customize the messages to what you prefer or desire.
The iPhone Fake Text Generator
This site has a simple interface that allows you to quickly generate a fake text message for iPhone. I like this site because it makes it so easy to create a prank text message for iPhone. All features are displayed on screen and you can speedily craft a fake text message using the generator.
To use this site.
Visit iPhone Fake Text Messages and add features you want to the settings column beside the phone view. The site is self explanatory and fun to use, images can be added to this generator.
Fake Phone Text
This is designed to fit the old iPhone text message interface design, as it is with most fake text message generator. You can custom design it to fit into your desired format. The settings are to the left of the screen. You have access to change the core phone features and add your messages. Mimicking both the sender and receiver.
Perhaps you have the old interface design this is cool, if you need the latest iOS 7 and above design use the earlier fake text message generator reviews.
Similar to other text generator, you can create a quick text message conversation with the option to add images. It has easy design and a simple tabbed feature for quick edit.
Fake Text Message Generator for Android
Android is so popular and has a very large mobile market share. It has a cool features and custom tweak abilities to its features. Android in itself is open-source and can be tweaked to fit your taste. With this in mind phone manufacturers using Android has the operating system, have varying design.
This may or may not affect the look of the text messaging interface, I will take time to provide a list with details of the most popular Fake Text Message Generator for Android.
Fake Text Message Android
'Fake text message' lets you receive fake text messages from anyone you want! Trick your friends and make them believe you received the message of their dream. If you ever forgot to send an important SMS to someone? This app lets you send that SMS as 'failed' at any time you want so that you can blame it on the phone. Funny!
The beauty of this is that it in itself is an app, installed on the phone. So it is easy to manipulate and customize for send.
To start with follow the instruction below.
Go the app store and download Fake Text Message.
Install and run the app.
Open to fake any of the following
1)Inbox – fake received SMS
2)Sent – fake SMS sent successfully to anyone.
3)Draft – fake SMS saved as draft.
4)Outbox- fake SMS sent to anyone.
5)Failed- fake SMS that failed to send.
Yazzy – Fake Conversations
This is a phone app on the Google play store that allow you to make fun, jokes or prank a friend. The app help you to easily generate a fake conversation with anyone.
I like the Yazzy app because it can generate a fake text message conversation for Facebook status, tweet, android sms, whatsapp, iPhone sms, Facebook messenger, google search and hangout.
Features of Yazzy
Supported fake screens:
• iPhone SMS with emojis support
• WhatsApp with emojis and images
• Facebook Messenger
• Facebook Status with comments and likes
• Tweets with hashtag and mentions
• Google searches
• WhatsApp groups with images and emojis
• Google translate
• Ask.FM
• iPhone WhatsApp with images and emojis
• Others fake conversation screens will come soon
Each conversation screen is highly customizable: you can include a customized status bar (custom wifi, battery level, carrier), navigation bar, show or hide overflow, change WhatsApp background, change avatars, status and more.
Related