Adventure capitalist is a game that brings out the hustle in you, however there are cool Adventure capitalist cheats and tips that will make you go far in the game.
Modeled after games like monopoly, where users technically gain and give on their way to greatness, it simulates a real life quest and journey to become the richest man in the world.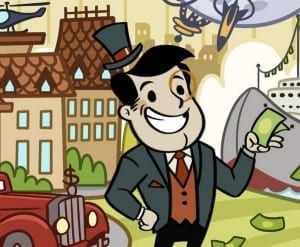 How about this starting with a lemonade stand, how far can you go to become the richest man. The common denominator in this game is money, how to you get enough money to grow to become the richest man.
Adventure capitalist cheat moves
Time Movement  
Forward – Time is a very essential element in adventure capitalist game to cheat the system easily to gain more money. Simply go offline on your device, upon restart, go to setting and adjust the time and date. Move far enough to gain more money.
If you are using a tablet or WiFi, deactivate your internet or switch to the airplane mode to go offline. Close the app and restart it, once the phone is up, change the phone time and date settings to get adventure capitalist cheats for money.
Backwards & Forward – This may sound silly but it works, if you have purchased game managers or you can buy it if you do not have one, buy a couple of managers then close the app.
Upon you closing the app, go offline by switching your internet off or go to the airplane mode. Then switch the device off and on, after go to the settings to move the time backwards, open the game allow it to sync and update with the game server.
Once the update is complete, go offline and close the game. Go to settings to adjust the time and date back to the normal time, and do not forget to switch on the WiFi when you restart the adventure capitalist app. This move will give you adventure capitalist cheats without using a software or hack.
Note: How far you go forward or backwards determines how much money you get.
The role of time, strategy and managers
Adventure capitalist is a strategy game that requires you to be smart and use your time wisely, gain more advantage with the use of managers to manage you business while in the offline mode. The best adventure capitalist cheat is to find a good balance between acquisition and profit, while understanding that getting your returns is time dependent. That is why you need managers to oversea your business.
Adventure capitalist badges
2x Moneybags: 25 Lemonade Stand
A little angel: 1 Angel Investor
Suit and Cash in hand: 600 Newspaper Delivery
Monocle: 900 Newspaper Delivery
Cellphone and Moneybag in hand: 2,000 Newspaper Delivery
The car: 1,000 Car Wash
3x Moneybags: 300 Donut Shop
The yatch: 400 Shrimp Boat
2x Moneybags: 400 Hockey Team
Top hat: 100 Movie Studio
Mansion with Helicopter: 800 Bank
Moon base: 1,300 Oil Company
Adventure Capitalist Cheats to Implement Now
To double you profit
Click on the green TV screen on the lower right to watch advertisements, this will in turn double your earnings or profit up to four hours. So do that quick.
Managers
If there is anything you have to do now, it is to unlock your managers as soon as possible. There role is to manage your business, even when you are offline. Imagine you logging into the game and you find out that your income as increased. That is your managers at work. Unlock as many as you can while playing.
Speed and strategic upgrade moves
Move one – Upgrade as many business you can, create a good spread and balance among your businesses. Make sure you do and unlock new improvements, upgrades and achievements.
Conditions – You can see the number of upgrades necessary for each business, meet all the requirement to unlock upgrades to increase your speed and profits.
Time and Margin – The clock ticks, make sure you upgrade as much as you can before the time runs out, you will be rewarded with more cash and this can be used to quickly unlock other upgrades before the timer runs out.
Angel Investors
Sell your shares and restart the system to activate the angel investors, they will increase your profit by 2%. Progress is faster with the angel investors.  The game actually starts with the acquisition of angel investors.
The concept of this game is great, understanding the adventure capitalist cheats will help you grow faster.