If you have not experienced a closed tab you mistakenly closed before, then you are new to the internet. To enjoy browsing you need to know how to open a closed tab on your mac computer, iPad and iPhone. Before now it was a big challenge for web surfers to restore a closed tab.
You are on a webpage you hardly remember the name and accidentally you closed the tab, it will be frustrating if you cannot recover that tab back.
There are a number of solutions to this challenge, I will take you through the steps for each one of them.
How to open a closed tab with a keyboard shortcut on Mac Safari
The use of keyboard shortcuts makes ones experience better and faster web surfing. To restore your closed Safari tab on Mac using the keyboard shortcut.
Mac Keyboard Shortcut: Command+Z – restores closed tab.
If you do not like keyboard shortcuts then you can try this method.
How to open closed Safari tab on Mac
To reopen the Safari tab on your Mac device using the menu tab.
Navigate to the Edit button on the menu
Select Undo close tab, in front of it you will see the shortcut instruction.
If you have more than one tab closed and you wish to restore it back, try the method above to restore the first tab then you repeat the process for the second and so on.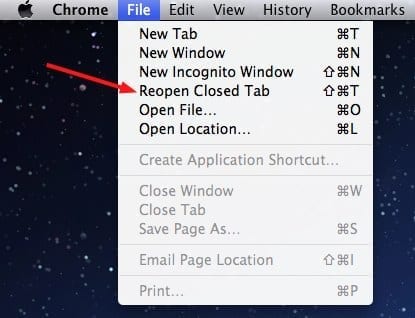 Restore tab by searching Safari history.
Another way to restore your tab is to search the history of the browser, you can restore a tab for different duration, an hour, a week or months. This process might be tedious, but it is very effective, perhaps you cannot remember the URL address. Searching history will not be useful.
How to open a closed tab on iPhone and iPad with iOS 5 and above
With the development of iOS 5 comes a wonderful feature that allows web users to restore their recent tabs on iPhone and iPad Safari browser.
To restore a recently closed tab.
Open up your mobile Safari
On the upper left corner of your screen, you would notice a plus sign.
Press the plus sign until you see a pop up or a new list of recently closed tab revealed.
Click on the most appropriate one and there you have it.
The latest iOS is way better than the iOS 5, more upgrades has occurred since the introduction of the feature.
Opera Browser for mobile devices.
This browser is common with most mobile and tablet devices, this is because it is lightweight and very fast. Using the keyboard shortcut Ctrl+Shift+T will reopen the last tab closed on your browser.
Alternatively you can go to the history on the menu and click on restore tabs to restore recently closed tabs.
If you are in private mode, you will not be able to restore closed tabs. Same with your history, since you are not meant to record activities on private mode.
This process might sound too simple, sometimes someone out there needs this information. It is the simple things that matters the most, if you miss the simple things the complex one will consume you.
How easy do you find the entire process, share your though below on how to open a closed tab in iPhone, iPad and Mac. For Opera users a quick guide is also included.